If you have any of these qualities PLEASE don't ask to book with us. We are not interested in drunks or drugs
This is his correspondence since the beginning.
1st email January 2001:
Hi,
My name is Brian F_gel. My wife, myself and Dog are looking for a private, secluded cottage with a sandy beach
Can you help
(for last week in July)
Our reply:
Dear Brian
We do take dogs, however, because of potential problems we ask for a deposit of $100 dollars and if everything goes fine we fully refund the deposit. We have done this many times and it works well.
Please see our full web site at http://www.cottageforrent.com/
The cottage Sawyer's Bluff is the only cottage that would be suitable that is available.
Regards
Jim and Viv
2nd email:
Jim,
How secluded is your unit. We are actually looking for something with no close neighbours (PRIVATE)
Do you have any pictures to email us? A deposit is fine with us.
Comment: The first email says two people and a dog but the second wants no close neighbours (PRIVATE)
I should have seen something but did not until arrival. Well they book and we meet at the cottage but now we have the mother in law and two more guests in their party for a total of five people and the dog. We explain this was not to our liking and against our original agreement as email one shows. This is not the end ,oh no, after about an hour we see someone motion at the dock and we go and investigate. It is a boat with two people from one bay over asking us if we know the F_gels because some people had come to their cottage door minutes earlier and demanded to know where our cottage was. Now we have upset cottage owners. We try and calm them just when another vehicle arrives at the rental cottage. Yes now there are three more for a total of 8 people and a dog. We were quite upset and spoke to the booking person Brian F_gel .He, of course, blamed it on his wife and said he was not aware of the situation until it was too late to tell us. We were told that three of the people would be staying at a lodge down the bay. We tried to make the best of a bad situation and charged the other two a nominal fee . It went downhill from this point and they completely took over the property with the people staying at the lodge coming by boat before 7 AM and staying well into the night . What was supposed to be two people and a dog was completely misrepresented..
The deposit for the dog was not fully refunded because of the untidy conditions not cleaned by the owners of the dog.
As well, our septic systems overflowed from the partying unwelcome guests. THIS WAS NOT FUN.
We thought it was over.........
Next email May 2002 :
I am interested in renting in month of august. Please send details.
Sincerely,
Ben Hacking
Comment: This email had Brian F_gel as the sender but look at his signature name . Our nightmare has returned.
Brian F_gel's 2nd email May 2002 :
you will get yours you thieving a..hole, you ripped us off. what comes around , goes around
i'm on you
Brian F_gel's 3rd email May 2002 :
This email was a link to a web site telling us of courage http://home.att.net/~RWfreebird/index.htm
Your guess is a good as ours as to what this meant.
Brian F_gel's 4th email May 2002 :
Next he is insulting my partner Vivian Lee for her being of Asian origin. I assume it is something to do with mail order brides. Viv's family moved to Canada in the mid 70's. This is the link he sends.
http://ab3.com/join.htm The email subject line reads: Memory lane
Brian F_gel's 5th email May 2002 :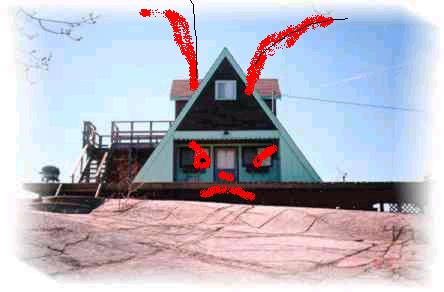 Comment: He titles this : lookincrawlspacejack.jpg We think he is threatening us with possible future damage or something equally demented.
Brian F_gel's 6th email May 2002 :
I'd like to rent this piece of shit run down sorry
Comment: He puts FU in the subject line
Brian F_gel's 7th email May 2002 :
Comment: Nothing in it . Did not even fill in the subject line. This person and others like him are quite sick and obviously need help. We can only hope others have better things to do with their time and this one learns to take responsibility. We have given all this information to the authorities and will leave it with them to decide on any course of action.
Jim and Viv
Follow up January 2003
We have not heard any more from this person and assume he is troubling someone else