The Algonova , A Great Lake Freighter on Byng Inlet
| | | | | | |
| --- | --- | --- | --- | --- | --- |
| Latitude | 45.7667 | Longitude | -80.5500 | Altitude (feet) | 606 |
| Lat (DMS) | 45° 46' 0N | Long (DMS) | 80° 32' 60W | Altitude (meters) | 184 |
For your interest the Table above is Byng Inlet's Earth Reference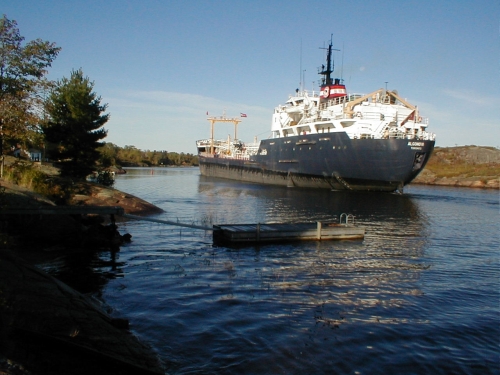 Taken From Our Property Oct. , 2004. The freighters are back this year after new docks have been built in Byng Inlet.
Launched Dec.11, 1968 as the Texaco Chief (2); this tanker was built to Ice Class 2 standards by Collingwood Shipyards, Collingwood, ON for Texaco Canada Ltd., Toronto, ON. She is powered by two Fairbanks Morse 2000 horsepower 12-cylinder diesel engines giving her a rated service speed of 13 knots and is equipped with a 350 horsepower bow thruster. Her 15 bunker tanks (some of which are heated) can hold 53,002 barrels (equivalent to 6,435 tons) of petroleum products at her maximum mid-summer draft of 22 feet 4 inches
| | | | | |
| --- | --- | --- | --- | --- |
| Algonova | 400'06" | 54'02" | 26'05" | 54,241 barrels |
The Jade Star On Byng Inlet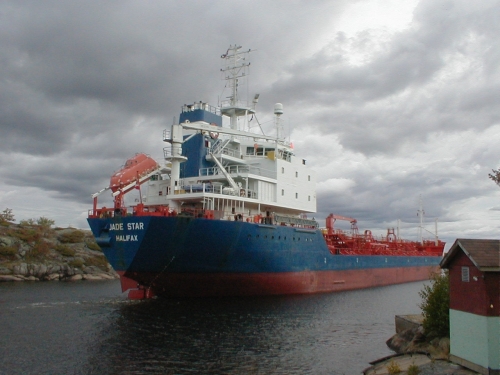 This picture was taken one week after the Algonova arrived Oct. 2004
Rigel Shipping Canada Inc. is domiciled in Shediac Cape, New Brunswick. The Company owns and operates three 10,500 DWT, modern, ice classed, double hulled chemical / oil tankers. The ships are capable and licensed for worldwide trading, and are chartered long term to Ultramar Canada Inc. The three ships together with four other tankers owned by Groupe Desgagnes of Quebec City are sub-chartered to PetroNav Inc. of Montreal.
| | | | | |
| --- | --- | --- | --- | --- |
| Jade Star | 405'11" | 58'01" | 34'09" | 68,018 barrels |