The Gemini , A Great Lake Freighter on Byng Inlet
| | | | | | |
| --- | --- | --- | --- | --- | --- |
| Latitude | 45.7667 | Longitude | -80.5500 | Altitude (feet) | 606 |
| Lat (DMS) | 45° 46' 0N | Long (DMS) | 80° 32' 60W | Altitude (meters) | 184 |
For your interest the Table above is Byng Inlet's Earth Reference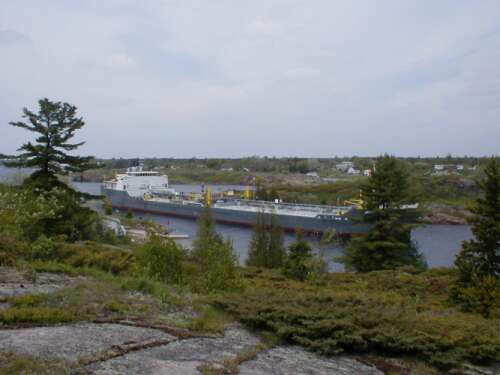 Taken From Our Property May 21, 2001. Rare sight, but The Big Boats Still Ply The Small Harbours. The Gemini, a twin-screw petroleum tanker built by Levingston Shipbuilding Co., Orange, TX for Cleveland Tankers Inc., Cleveland, OH, was launched on May 13, 1978. She is powered by twin Alco V-16 cylinder 2575 horsepower diesel engines giving her a rated service speed of 12 knots. The Gemini is capable of carrying 73000 barrels of clean petroleum products or 68000 barrels of heavy fuel oil in 6 tanks (equivalent of 10099 tons) at her maximum mid-summer draft of 23 feet. She has 3 separate pumping systems allowing her to transport a variety of cargos without contamination. Considered a specialty carrier, the Gemini's cargos may consist of gasoline, distillates, and petrochemicals. Because of her tank coating and construction, she can also carry calcium chloride, caustic soda, and nitrogen fertilizers. These cargos are delivered to customers along the Great Lakes, St. Lawrence Seaway, and the East Coast of Canada and the United States.
Gemini's maiden voyage was from Baytown, TX with a load of fuel oil for Detroit, MI thus becoming the largest U.S. flagged tanker on the Great Lakes.
Currently owned by Cleveland Tankers (1991) Inc., Cleveland, OH and operated by Cleveland Tankers Ship Management Inc., the Gemini sails under charter to Algoma Tankers Ltd., Dartmouth, NS. Algoma Tankers reportedly owns 25 percent of Cleveland Tankers Inc..


Overall dimensions

Length

432'06"

Beam

65'00"

Depth

29'04"

Capacity (barrels)

73,000
THE GREAT LAKES

Lake Huron
Surface area: 59,600 square kilometres
Volume: 3,540 cubic kilometres
Maximum depth: 229 metres

Lake Michigan
Surface area: 57,800 square kilometres
Volume: 4,920 cubic kilometres
Maximum depth: 281 metres

Lake Ontario
Surface area: 18,960 square kilometres
Volume: 1,640 cubic kilometres
Maximum depth: 244 metres

Lake Erie
Surface area: 25,700 square kilometres
Volume: 484 cubic kilometres
Maximum depth: 64 metres

Lake Superior
Surface area: 82,100 square kilometres
Volume: 12,100 cubic kilometres
Maximum depth: 405 metres


IN AND OUT

Inflow from Lake Superior, precipitation, runoff
and evaporation all play a part in influencing
the levels of lakes Michigan and Huron.
Values shown are based on the period
1948-2006, and are represented as cubic
metres per second.

Water in:
Inflow from Lake Superior: 2,110
Precipitation: 3,120
Runoff to lakes: 2,670
Total: 7,900

Water out:
Outflow to Lake Erie: 5,360
Evaporation: 2,450
Chicago Diversion: 90
Total: 7,900

Source: International Joint Commission